Tekashi 6ix9ine's future looks bleak after he and three other members of his (former) Nine Trey Bloods set were taken in by the Feds late last night.
They are being charged with six RICO and weapons counts. The most serious is discharging a weapon while committing a crime. That count carries a possible life sentence and a mandatory minimum of 25 years in prison. 6ix9ine is also accused of ordering a hit on a rival this summer, which resulted in someone getting shot in the foot. 6ix9ine was denied bail
50 Cent is feeling for his "son." But he sure as hell doesn't want 6ix9ine calling him from jail.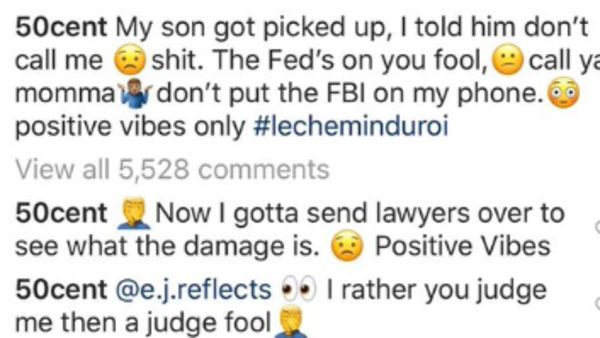 "My son got picked up, I told him don't call me 😟shit. The Fed's on you fool,😕call ya momma🤷🏽‍♂️don't put the FBI on my phone.😳positive vibes "only ," 50 typed, before saying he would get his boy legal help in the comments.
Ya think 6ix9ine, who's lived a charmed legal life, can beat this, too?
Discuss