Terry Crews testified before the Senate Judiciary Committee this morning on the Sexual Assault Survivors' Bill of Rights.
Crews has been a victim of sexual assault. The former football player and current movie action hero had his junk grabbed by powerful Hollywood agent Adam Venit during an industry party.
During his testimony today, Crews told the Senate that he was told he wouldn't be in Expendables 4 (he had been in the previous three) unless he dropped his case against Venit. Crews refused, and won't be in the movie.
50 Cent found it all funny.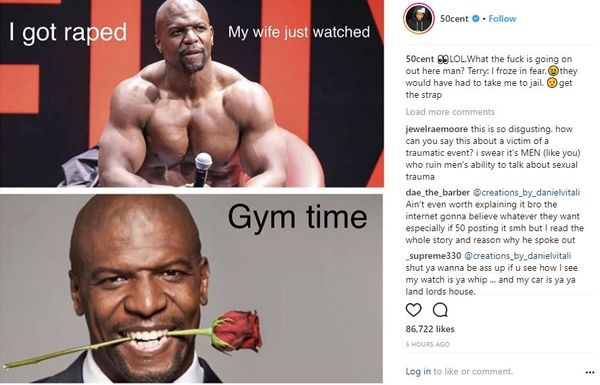 "LOL,What the fuck is going on out here man? Terry: l froze in fear,😆they would have had to take me to jail. 🤨get the strap," 50 mocked under a photo of Crews that was captioned "I got raped. My wife just watched."
What do you think? Here is some of Crews's testimony:
Discuss