It looks like Benzino has replaced Young Buck as 50 Cent's favorite whipping boy.
Like with Buck, a lot of the material Fif uses against Zino involves the transgendered community.
Last week, Fif mocked Zino for a leaked video in which transgender model Shauna Brooks secretly records Zino speaking about their new relationship.
Zino clapped back by accusing 50 Cent of stitching and being the original Tekashi 6ix9ine.
Of course, Fif wasn't going to let that stand without a response.
So he reposted a Tweet Brooks made about why she outed Zino.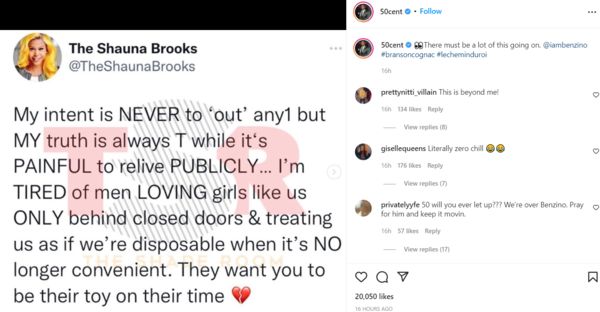 "My intent is NEVER to out any1 but MY truck is always T while it's painful to relive PUBLICLY ... I'm tired of men LOVING girlslike us ONLY behind closed doors * treating us as if we're disposable when it's NO longer convenient. They want you to be their toy on their time," Brooks typed.

"There must be a lot of this going on," Fif added.
Now it's Zino's move.
Discuss