Ja Rule, Irv Gotti, French Montana and (apparently) N.O.R.E. have all recently suggested that 50 Cent is a snitch, citing a long circulated Murder Inc-beef-era order of protection that labels Fif an "informant."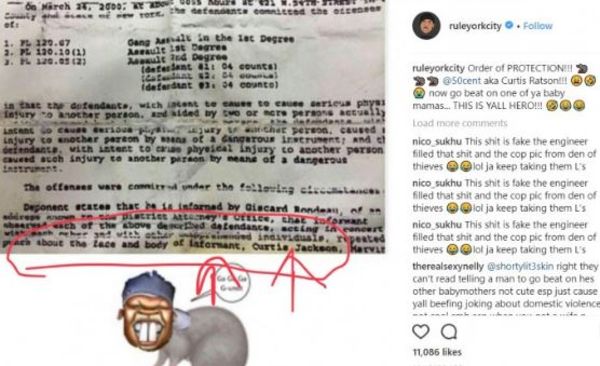 A drunk 50 Cent addressed the allegation head-on in a new Cigar Talk interview. [Jump to 19 minutes.]
"'Cause if you telling, you can't even look forward to going home," 50, who'd been drinking, said about snitching. Where you going after you get out? The neighborhood ain't accepting that. 'Bitch a$$ n*gga we heard you's a rat.' You know what I'm saying like that? They say these things when they want to talk their beef with me, personally. My character–they try to attack my character. They'll say, 'He a rat' or, 'He this and that.' All you gotta do is ask them who I told on? I ain't never told on no n*gga in my life. In the Preme situation, look at his case. It'll tell you who told on him. My name ain't in that case. You see what I'm saying? That talking about, they tried to use that I needed an order of protection, but why does it feels like I'm the bully out here then? You needed protection, n*gga. And your protection gone. That's the truth. N*ggas will try to put a spin on anything to try to make it look good and then when you get in disputes with the younger artists, new artists, they don't know what to use against you so they use what someone else used. So they go back and they go, 'Oh you this.' You heard it when Meek was talking sh*t, you heard it when French was talking and it's like, I don't take offense to it when they do it because I know what they're doing. I took offense where it actually started and you never see. Let Jimmy Henchman tell you I'm a snitch. Let Preme tell you I'm a snitch. Just say it one time. Because Jimmy been snitching since 1942 ... check the paperwork."
You buying that?
Discuss