Benzino is having a really tough time.
He was just arrested in tears after he attacked the truck of a man who went on a date with his ex Althea.
In addition, his daughter Coi Leray told the world that her dad is broke.
The last thing he needs is 50 Cent coming for him
But that's what the 56-year old has.
50 Cent posted a video in which transgender model Shauna Brooks secretly records Zino speaking about their new relationship.
"This is all new to me and I'm trying to be open-minded about it, but then I'm thinking wow this is crazy," Zino said to his new transgender friend. "I'm looking bad, you're not looking bad Shauna, can't you get that through your head? You just look like a chick trying to f*ck with a ni*gga. I'm looking wrong because what the f*ck do I look like trying to mess with a transgender."
Then 50 compared Zino -- who has a history of getting into it with Fif's buddy Eminem -- to 50's favorite whipping boy Young Buck.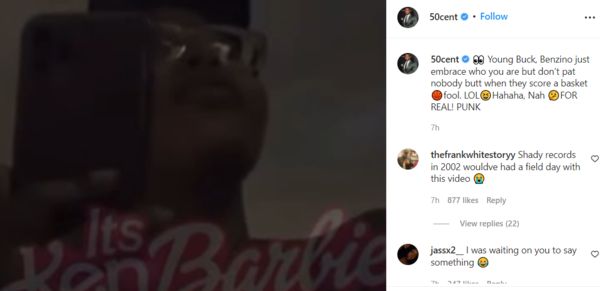 "Young Buck, Benzino just embrace who you are but don't pat nobody butt when they score a basket 🏀fool. LOL😆Hahaha, Nah 🤔FOR REAL! PUNK," Fif typed.
It's tough out there.
Discuss