Tony Yayo, of all people, knows you have to navigate those eggshells when you're running with 50 Cent.
That certainly applies to social media, and Yayo recently irked the G-Unit leader by including Mike Lightly in an IG post paying tribute to the late music exec Chris Lighty, Mike's brother.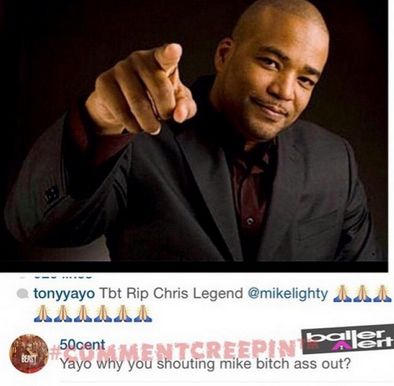 "TBT Rip Chris Legend @MikeLighty" read YaYo's caption underneath a photo of Chris.
50 wouldn't have a problem with Yayo remembering Chris Lighty. After all, Chris helped 50 ink his famous deal with Vitamin Water, which ended up netting the emcee at least $100 million.
But apparently 50 didn't appreciate Yayo including Mike Lighty in the tribute.
"Why you shouting mike bitch ass out?" 50 wrote right under Yayo's message.
It isn't known what Mike Lighly did to 50 to piss him off, but it doesn't always take that much.
And when Fif is pissed, he doesn't quit.
For the latest Hip Hop tracks and news, follow us on Twitter.
Discuss