We're not too sure how it keeps happening, but people keep [supposedly] borrowing money from 50 Cent.
A week ago, film producer Randall Emmett had to go to the ER because he thought he had a heart attack after 50 threatened him online for an unpaid debt.
Now, 50 is back on social media clowning actors.
Today, 50 hit Instagram to air out actor Jackie Long.
This punk ass nigga @jackielong better give me my money. You on BET now you can have mine by Monday fool. 😤#lecheminduroi #bransoncognac
Well, Jackie was not feeling the post and responded to Fif, asking him how he can pay a debt back that he already paid.
Apparently, Jackie did borrow money from Fif and paid it back, but it seems 50 wants interest paid as well and says he saved Jackie from being killed by Diddy.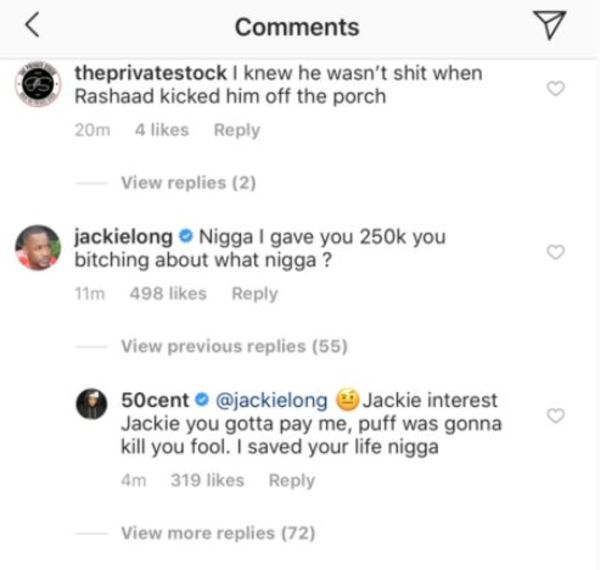 @50cent if you give me money and I give right back what the fuck you mad about. Get the fuck outta here !!!
50 goes on to diss Ray J and actor Hassan Johnson for taking pictures with Jackie and promoting his brand when he owes Fif cash.
At this point, we don't know what's real or what is a joke.
@hinikoj how you in a picture with this nigga Jackie and he owe me money, now you owe me too. If he don't pay you gonna pay Monday.
@rayj putting up pictures of this nigga he owe me money.😤 I'm not like you ray you let @kimkardashian run off wit all the fucking money.😠mind ya business man #lecheminduroi#bransoncognac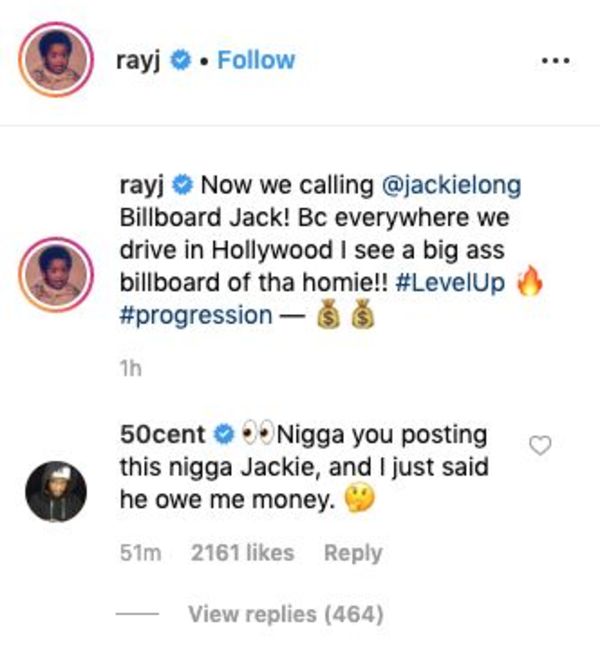 Discuss