In October, The Game was accused of knocking up a 15-year old English girl and then paying her to keep quiet.
His old rival 40 Glocc reignited that controversy with a series of IG posts.
🚨PEDOPHILE ALERT🚨 GAYME - YOU CAN'T MISTAKE A 14yrs OLD LITTLE GIRL FOR AN ADULT... & BUY HER A PLANE TICKET TO THE U.S.A. FOR HE 15TH BIRTHDAY TO HAVE SEX WITH HER & MAKE A BABY.. U KNEW HER AGE WHEN U BOUGHT THE PLANE TICKET BITCH!! BCUZ THEY ASKED FOR DATE OF BIRTH TO BUY THE PLANE TICKET! .. HAVING HER LIE SAYING IT HAPPENED IN THE UK.. SO MIAMI POLICE DONT LOCK YO SICK ASS UP!! "GAYME" A CHILD MOLESTER & YEA @Wack100 yo bitch ass just as much as a pedophile for being up under the nigga hugging his balls, trying to cover it up..& u tried to fuck on her too.💥💯 HIDE YO KIDS FROM THESE NIGGAZ ON GOD! #FACT THESE SICK PERVERTED BITCH ASS NIGGAZ FUCK THIS LITTLE GIRL LIFE UP.. & SCARED HER INTO SAYING IT HAPPENED IN THE UK.. & IT REALLY HAPPENED IN THE U.S.A. IN MIAMI!. & PAID HER SCANLESS ASS MOMA A CHECK TO HELP THEM WITH THE LIE..SHIT PISS ME OFF WHEN NIGGAZ MOLEST LITTLE GIRLS😠 ON GOD!
He followed that up with a screenshot which he says shows Game's manager Wack 100 paying off the girl
YOU B!TCH AZZ PEDOPHILE ASS NIGGA STOP HAVING @WACK100THREATEN THE LITTLE GIRL.. U NIGGAZ BRIBING HER WITH MONEY.. EVERYBODY HIDE YO KIDS!! I TOLD U THESE NIGGAZ IS SICK!! THEY PEDOPHILE.. TRYING TO BRIBE HER WITH MONEY!! I HATE CHILD MOLESTERS😠 ON GOD! I TOLD YALL I KEEP SHIT REAL I DON'T LIE ABOUT SHIT.. I PUT THE NIGGAZ ON BLAST NOW THEY THREATENING HER NOT TO TAKE CARE OF THE LITTLE GIRL BABY.. 😠 NIGGA U BETTER NOT STOP PAYING OR SHE CALLING MIAMI POLICE & GAME GOING TO JAIL FOR HAVING SEX WITH A 14 YEAR OLD LITTLE GIRL IN MIAMI.. YALL DONT WANT THEM PROBLEMS.. YOU B*TCH ASS NIGGAZ F*CK THIS LITTLE GIRL LIFE UP & GOT THE WORLD THINKING SHE A LIAR.. PEDOPHILE ASS NIGGAZ GIVIN CANDY TO BABIES FOR SEX💥💯 #SaveOurLittleGirls#TheGame #PedophileAlert
Then 40 posted what he says are text messages from the girl. The texts suggests she told the authorities she had sex with Game in the UK -- not Miami -- to protect him:
40 Glocc has a reason to be pissed at Game. The Compton rapper still hasn't paid 40 the 200K settlement he won over a street fight the pair had in 2012. Glocc recently sued Game to recover the money.
Now he's also making extrajudicial moves to get revenge. Do you think The Game really did what he's accused of doing?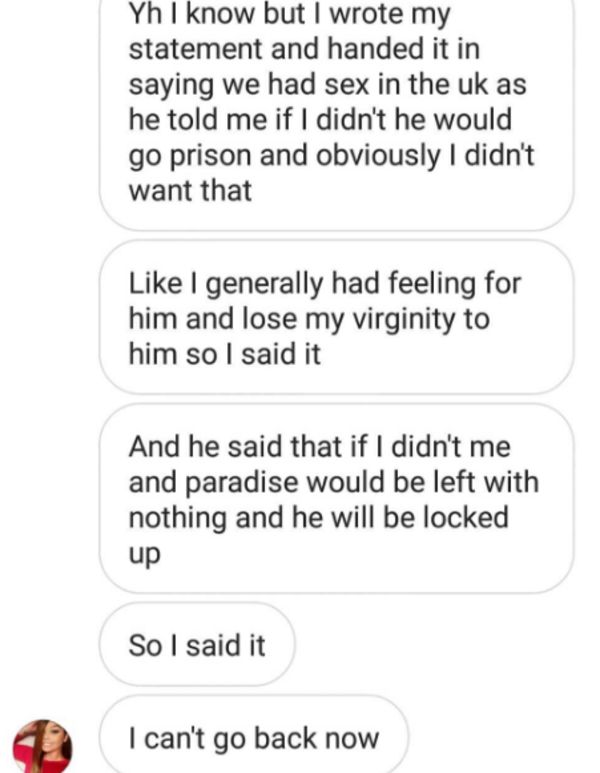 Discuss