22 Savage and 21 Savage aren't going to box.
And it doesn't look like there's going to be a Savage battle royal.
Perhaps that's why 22 Savage is no longer 22 Savage.
The rapper and comedian formally known as Mighty Mike is now going to be known as Young 22. He announced the change on Snapchat and then switched the rest of his social media to reflect it.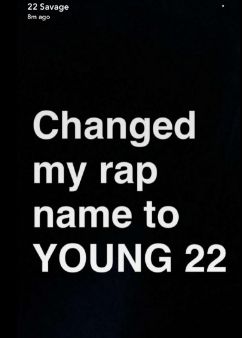 Changed my name to Young 22

— Young 22 (@IAM22SAVAGE) February 6, 2017
He might not be 22 Savage anymore, but he's certainly gotten a lot of mileage out of jacking 21's persona.
He explained why he did it back in September.
"I just felt like jacking him," 22 Savage said. "I'm really a savage out here. I'm really in the slums. What people don't understand is that underneath this funny, it's really real. We're in the streets. I'm a street nigga trying to make it out anyway I can."
The Baton Rouge prankster is now going to try to make it as Young 22.
Discuss