The Coronavirus has taken over people's lives in the U.S. and around the world for well over a month now.
It seems that most in America took the illness seriously when the NBA suspended the league on March 11 after the Utah Jazz's Rudy Gobert tested positive for it.
While most states are still shut down and will be for a while, Georgia Governor Brian Kemp said he'll reopen gyms, barbershops, hair salons and other non-essential businesses in the state by week's end.
Cardi B don't think that's a good idea.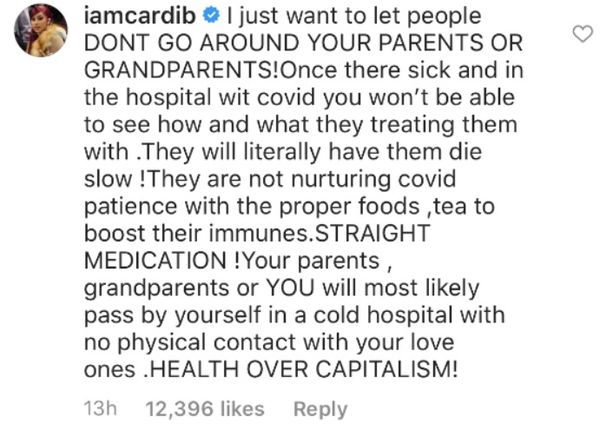 "I just want to let people DONT GO AROUND YOUR PARENTS OR GRANDPARENTS!" she advised. "Once they're sick and in the hospital wit covid you won't be able to see how and what they treating them with. They will literally have them die slow. They are not nurturing covid patients with the proper foods, tea to boost their immunes. STRAIGHT MEDICATION! Your parents, grandparents or YOU will most likely pass by yourself in a cold hospital with no physical contact with your love ones. HEALTH OVER CAPITALISM."
Georgia governor 2 Chainz also responded to the news and implied the Governor is just playing politics by reopening the state.
"Red state," wrote Chainz.
Do you think it's a good idea to reopen Georgia and other states right now?
Discuss