When rapper Lil Rodney was 11, he cut off an ankle bracelet he was forced to wear after catching an arson charge and then shot a one-year-old baby, who survived.
Rodney, who just turned 12, has been sentenced to a Texas juvenile detention until he's 19.
During the hearing, Rodney claimed he had cut off the bracelet because he wanted to go to a friend's funeral. However, he couldn't recall the friend's name.
"You were here for... you're on probation for arson and that is from 2019," judge Kim said on a zoom hearing that has gone viral. And then, we got all kinds of promises. Most recently, I let you go. You keep cutting it [his ankle monitor] off, I've always let you go because you're still young. I mean, you're 11-years-old, right? So, I didn't want to keep an 11-year--old in here.

So, you keep on running away, we keep on getting you back in here, make you stay a couple days, you promise me you're not going to cut it (ankle monitor) off, and you cried a couple times about coming back here. "Now there's a new charge that was filed and that was the one where you shot the one-year-old," Judge Kim said, adding, "You shot the one-year-old baby."
Shortly after shooting the baby, Rodney, who reps the Crips and also goes by "30 Shotz" posed with a gun.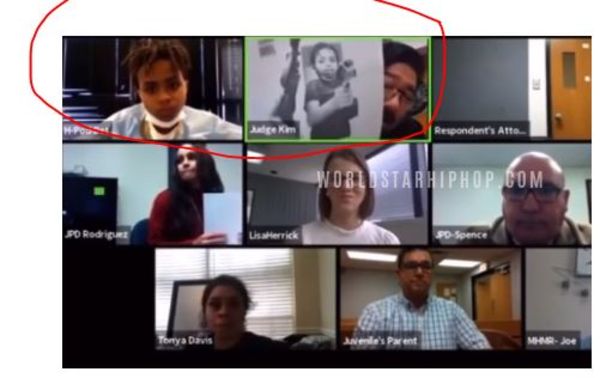 Although Rodney cried again, the judge showed no mercy this time.
"Every time you come in here you cry. You know that, right?" Judge Kim explained. "Every single time, you beg me for one more chance. You swear to God, 'On my mama's name,' 'I'm not gonna cut off the monitor, I'm not gonna run off,'" said judge Kim, before giving him the max sentence for a juvenile.
Should a 12-year-old be giving that kind of sentence for crimes committed at 11?
Discuss